Course details
Vivabanko Deal Plan! ☆ 2 o'clock OK! 2 hour free all you can drink, meat Gutzuri Plan ☆ 5000 yen (tax included)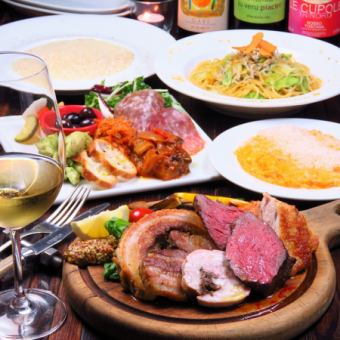 By using a coupon5000 Yen
Tax / one serving
All-you-can-drink available

All-you-can-drink for 2 hours
Reservation deadline

Until 22 o'clock the day prior to the desired shop visit date
Available days for reservation

Monday - Sunday - Public holidays - Holidays
How about a meat gutsuri course plan with all you can drink in Vivabanco? How about a delicious meal and tasty sake, why do not you fill your stomach with your friends and have a good time! We prepared a plan ♪
Course menu
· Assorted appetizers using seasonal ingredients 5 pcs
· Chef recommended using hot ingredients of the day
· Seafood based pasta
· Teppanyaki Platter with Guttri Meat !!
· Parmigiano risotto at the end
* This is the base, please do not hesitate to contact us!
We will respond with full power!
(drink)
· Ebisu draft beer · Italian white, red wine · homemade sangria
· Cocktails · Soft drinks
* 2 hours last order 2 hours 30 minutes
Even if you decide on the spot ok! Of course you can extend it for 30 minutes at +500 yen per person!
All-you-can-drink menu
·beer
· Ebisu draft beer
·wine
· Italian wine red / white
· Homemade Sangria
Various
·Cocktail
Various
·Soft drink
Various
Coupons that can be used with this course
2018/07/27 update